Live Music & Entertainment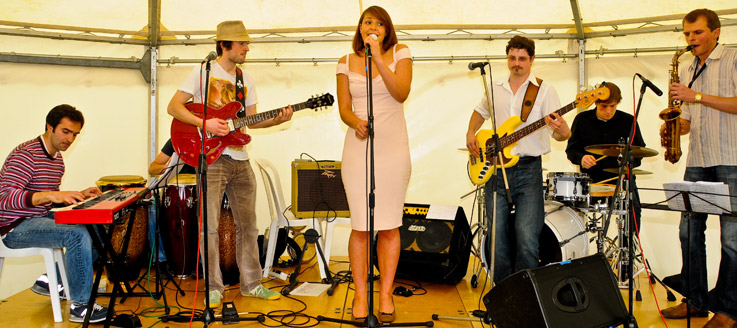 SIPS AND SOUNDS TENT
Relax and chill out to great music at our Wimbledon Brewery bar in the Sips and Sounds Tent. Pop in to see an eclectic mix of bands and choirs performing throughout the day covering all genres from traditional covers to jazz, rock and light opera.
11.00 – 11.20
Sing Swell Community Choir
Southfields based choir performing a range of contemporary music from soul, pop and Motown classics to songs from films and musicals.
11.30 – 12.10
Alexandra Howlett
Singing some of her favourite songs in her inimitable jazzy, swing style.
12.20 – 12.40
Humming Birds
This female choir will perform jazz, swing, show-tunes and pop – past and present.
13.00 – 13.20
Wimbledon Light Opera Society
Entertainers from South West London who bring to the stage their infectious performances of cabaret and musicals.
13.35 – 14.30
Feature Creep
Playing a variety of classic rock, up-tothe minute indie and off-the-wall cover versions.
14.40 – 15.00
Cherry Pie Choir
Performing a range of styles including pop, rock, show tunes, gospel and world music.
15.15 – 15.50
The Robert Booth Band
Creating the best blues sound in London.
16.05 – 17.00
Mad Hiros
Music that combines old-skool soul and funk with nu-skool grooves.
MAIN ARENA
Fun-filled, action packed entertainment in the Main Arena supported by Parkside Hospital.
Highlight of the day is the high-octane, medieval jousting performances by the gallant Knights of Middle England. Plus musical performances and Birds of Prey demonstrations.
11.00 - 11.15
Official Opening
11.20 - 11.35
Flying Fantastic
Young Flyers Aerial Hoop & Trapeze Performance
11.45 - 12.30
Medieval Jousting by the Knights of Middle England supported by Robert Holmes
12.40 - 12.55
Dance performances by The Village School of Dance's DDMIX
13.10 - 13.40
Falconry and Birds of Prey Demonstration
13.50 – 14.00
Modern Dance Performance by The Village School Of Dance
14.15 – 15.00
Medieval Jousting by the Knights of Middle England supported by Robert Holmes
15.15 - 15.45
Falconry and Birds of Prey Demonstration
16.00 - 16.30
Rock Choir sing their hearts out!
*Line-up and timings subject to change.